The Venue
For the second time MEU Vienna will be held at the Vienna University of Technology (TU Wien).
Located directly in the center of Vienna at Karlsplatz, close to many famous sights such as the Karlskirche and the Naschmarkt, it offers us perfect rooms to host the simulation. It is easily accessible by public transport and in close proximity to our hotel, where the participants will stay. The venue and all of its rooms are of course wheelchair accessible. While the lunch will be served at the canteen of TU Wien, we have something special planned for dinner.
How to get there
The conference will be held at the Campus Gußhaus. It can easily be reached by citybikes and public transport:
Underground: U4
Destination: Karlsplatz
Tram 1


Destination: Paulanergasse
Outside of the underground station it takes about 5 minutes of walking to reach the venue. We have provided a map below.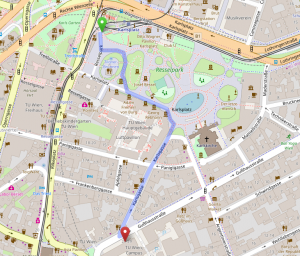 The Auditorium
The parliament will meet in the room EI9, which is the first room to the right near the entrance. The EI9 is marked red in the map of Campus Gußhaus in the picture above.
Lunch at Mensa
The canteen of TU Wien will serve lunch and is located in the Freihaus on the first floor in the yellow area (DB).